Target® Iditarod Teacher on the Trail™ | Target® is the Official Sponsor of the Iditarod Teacher on the Trail program
I found a cool blogger this morning.  A teacher sponsored by Target to report on all the informative and interesting bits about the Iditarod.  Posts about Robert Service and the ice and the snow and the dogs… all for school kids!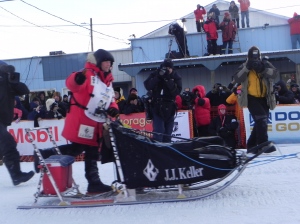 Our racers!
The Sisters are in.  Dan and Matt are close together.  But I think Jan and Bob are racing for the Red Lantern.  Perhaps Dan has too much pride to come in 'Last Place'.  We see the last in line one way is first in line going the other way.
Race Hard and Sleep well!