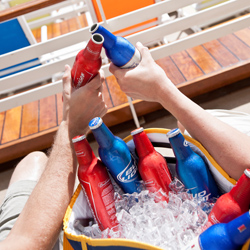 There's no "open beverage" rule onboard. You can bring drinks from a bar or buffet to your cabin or elsewhere on the ship and no one will bat an eye. (Same goes for food.)
via Secrets the Cruise Lines Don't Tell You – Cruises – Cruise Critic.
Open container law on Cruise ships is in effect.  Just like in Key West and Savannah GA – you can walk around with a beer and it's not a problem.
What other secrets to enjoying a cruise ship experience?  This link has over 20 tips like this one.
Enjoy!