A Valdez, Alaska Photo Album
First | Previous Picture | Next Picture | Last | Thumbnails

---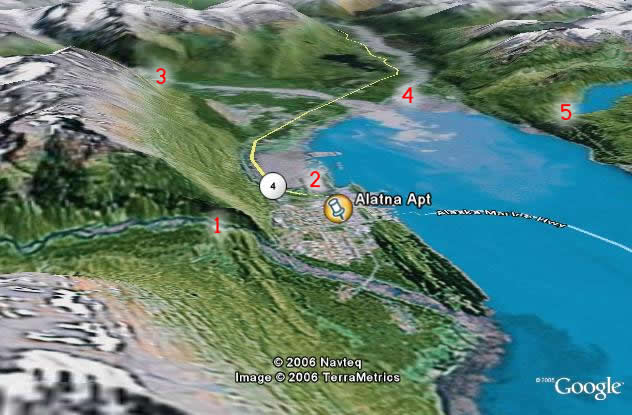 This is a nice Google Earth satellite image of Valdez. The maker in the middle is my Mom's weekly rental apartment. She is nice lady and it might be the perfect answer for overpriced hotels - at $400 a week, her two bedroom apartment isn't a bad deal. So, back to the map...
The body of water is of course, the port of Valdez. You can see where the ferries come in at the city dock. Mineral creek (1) is on the left hand side and is at great spot of outdoor recreation. Through that valley, there are a series of trails for snowmachines (snowmobiles) and cross country skiers in the winter and hikers and bikers in the summer. The cross country ski trails are groomed by the city and used by the high school team. In the summer the trail is a gravel road that is accessible by motor vehicle at least part of the way back. At the end of the trail is an old mill.
The road that comes into town is the Richardson Hwy. The gray area to the right in the mud flats and a nice walk to view this area is the "Dock Point" trail (2). There is also a salmon viewing stream (under the 4 highway sign) there during the silver and pink salmon runs (in Aug and June, respectively)
The Valdez glacier stream (3) and the Lowe river (4) empty into Prince William Sound there. There are a bunch of trails around the Valdez Glacier stream starting at the Glacier and winding through the woods. You can there by taking the road past the airport and parking by the shooting range. The Lowe is a good whitewater rafting river through Keystone Canyon.
And that bit of blue in the right hand corner is Solomon Lake (5). It's where the Solomon Gulch trail leads and has a hydro electric dam.