A Valdez, Alaska Photo Album
First | Previous Picture | Next Picture | Last | Thumbnails

---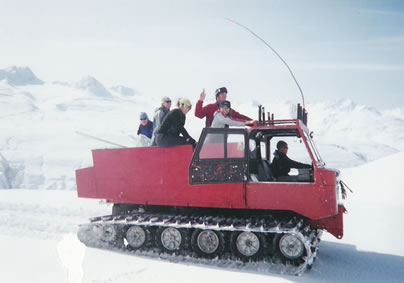 Helicopters get all the glory for 'accessing the goods' in Thompson Pass skiing circles, but this little snowcat isn't doing to bad. Back in the day, you and your buddies could ride all day and not have to sell an organ to pay for it. But with the snowcat it's hit or miss, could be running - could be broke down. It's all part of the adventure. Some of my best days in the Pass were spent hanging out waiting for the cat to crank... it always did.
God bless you Mr. SnowCat driver! Pete, Hodges, Chris, those dudes from Oregon with the Hummers - God Bless You!
You can find out more about Pete, an Alaskan original (and owner of this cat) and Heli skiing in Valdez.